Le Fay News
Our news 2021 on Facebook:
For more Facebook posts please scroll
01.09.2021
First HERR SCHWARZ Pantanal weighs only 3,49 KG
This HERR SCHWARZ Pantanal, equipped with a CAP, is the first 4 string that we have chamberted. It weighs 3.49 kilograms, which is easy on your back, and has the new pickup and potentiometer design.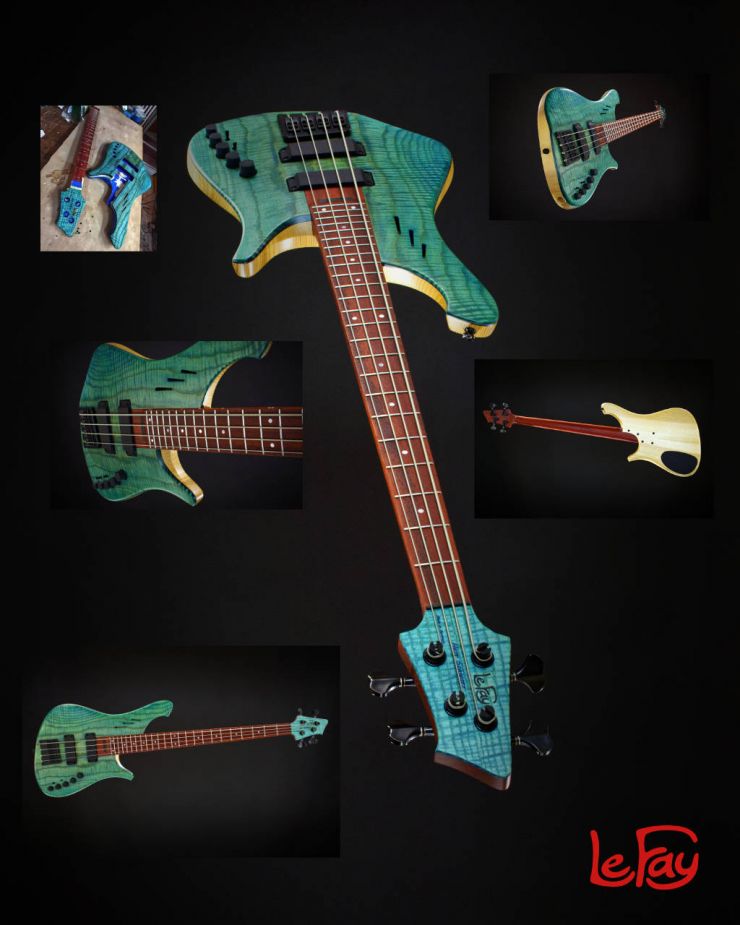 01.07.2019
Le Fay CAP
Gluing decorative wood on top to good-sounding base wood is not new. There are many basses with a thin decorative layer on the market.
It is assumed that the good sounding base wood with a comparatively thin decorative top layer produces a good sounding instrument.
But the shaping of the basses with a decorative top layer is mostly limited to the outlines, to show as much of the noble wood as possible on the surface of the instruments.
The results are well-known flat basses, with more or less successful outlines. Timid attempts to add some shaping to the instruments, for example on the armrest, are resulting in more or less visible base wood. For us at Le Fay, this design attempts are unacceptable.
We have registered our revolutionary manufacturing technology as a design.
With the strong shaped top of a Le Fay bass, the maximum outer point of the shaping is not at the same height, but at completely different heights.
This results in an imaginary 3D outer line that is a bit reminiscent of the mountain and valley of a roller coaster - o.k. no loopings but otherwise a lively up and down.
Now imagine that the parting line between the base wood and the decorative layer is matching exactly this 3D line. Not a horizontally planar parting line, as is the case with many basses, but a joint that is precisely aligned with the shaping of the bass. A wave that sloshes through the bass exactly 4 mm below the surface.
And now imagine that the upper 3D wood layer is made of decorative wood and is not thicker than 4mm at any point on the bass. This is our new Le Fay CAP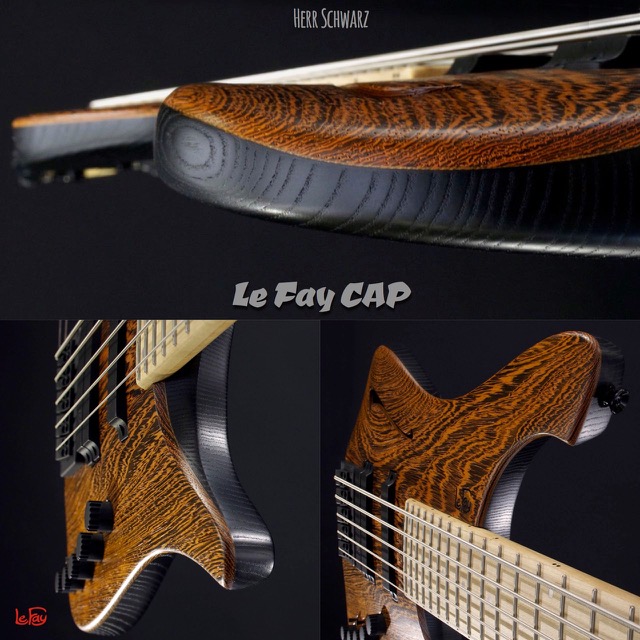 With our newly developed technique, we can combine base wood that is excellently suited for bass construction with a top layer made out of decorative wood, without affecting the sound character of the bass. The clear joint between the top layer and the base wood optically supports the 3D shaped top layer and expresses the ergonomic shape even better. In addition, the 3D glue joint brings additional stability to the body. The bass now can be made even thinner and more exciting without any loss of stability.
Base wood and CAP are glued together and fit perfectly. The manufacture of a Le Fay CAP with conservative construction methods would not be possible.
We are thus able to use heavy wenge or crazy cherry without compromising on the sound. It looks razor-sharp, the shaping of the bass is retained and the weight is just 4 KG.
To get even lighter, we offer the possibility of chambering the base wood. The body gets an additional hollow space. This saves up to 250g in weight. If desired, the bass can also get an F-hole to proudly show the chamber chamber.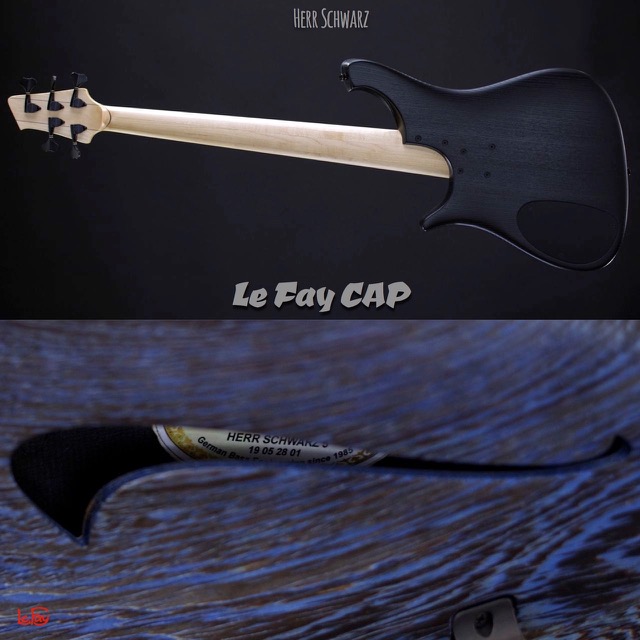 Will there be a Le Fay with Buckeye Burl?
Theoretically yes, but in practice we need 25mm thick wood to make the 4mm CAP. Whether Buckeye Burl exists in this size and whether it is payable has to be checked.
08. 08. 2018
Tiefenrausch
We have a new YouTube channel: Le Fay Tiefenrausch! Have a look.
25. 08. 2017
Guitar Summit in Mannheim from 8. – 10. September: We are there...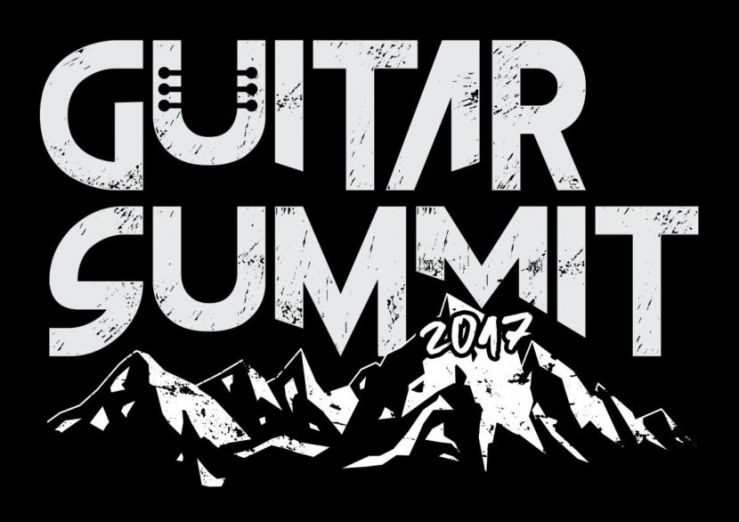 When will the Guitar Summit take place? 8 - 10 September 2017 Opening hours: 10 am - 6 pm Where is the Guitar Summit? M: con Congress Center Rosengarten Mannheim Rosengartenplatz 2 68161 Mannheim What do tickets cost? You can choose between 1-day or 3-day tickets: 3-day ticket Adult: 29 € Three-day ticket Students and students: 25 € Day ticket Adult: 18 €, Day ticket Students and students: 12, - €, children up to 14 years free admission
24. 08. 2017
What a great TV Report, thanks to shz.de - You may not understand a word, but that´s alright for us... :-)
28. 02. 2017
Visit us at the London Bass Guitar Show
From 04.-05.03. we are back in London and have put the following basses into our luggage: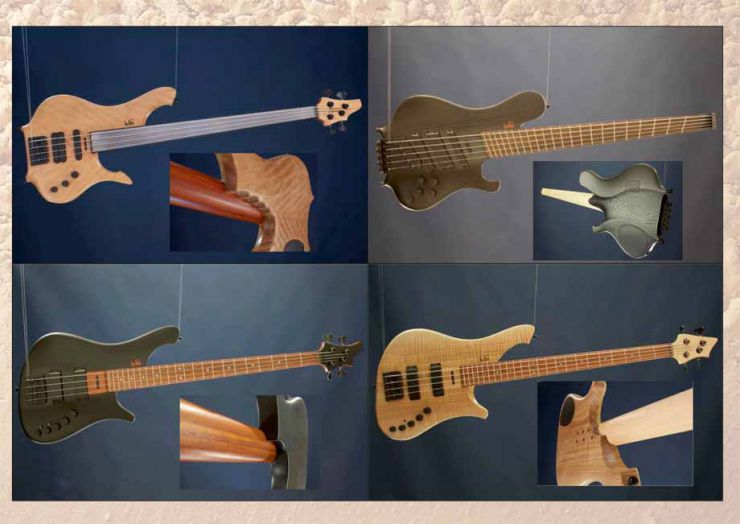 For more information, click the logo...
17. 02. 2017
Le Fay is the winner of the German Musical Instrument Award 2017
We are very pleased to announce we've bought new suits. Our parents taught us that you have to be well dressed at award ceremonies.
So we thought, if we're going to receive the German Musical Instrument Award 2017, a grey suit with a black shirt would probably look quite good at the award-giving ceremony.
We're curious to find out how our dear friend and colleague Gerald Marleaux will deal with the issue of what to wear, because he too will be receiving this award. We sincerely congratulate him on that.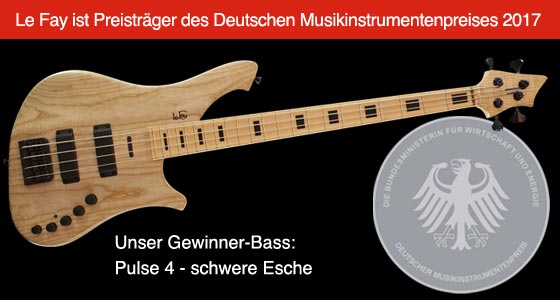 Marleaux Bassguitars and Le Fay are the winners of the German Musical Instrument Award 2017, sponsored by the Federal Ministry for Economic Affairs and Energy, in the e- bass category.
The criteria for the submissions were: bass guitar, solid body, 4-string, two humbuckers, active electronics, and fretted fingerboard.
The submissions were judged in three evaluation processes: a "subjective assessment" by 5 renowned musicians, an "objective assessment" based on metrological tests carried out in a laboratory, and an "artisan assessment" performed by a master craftsman appointed by the advisory board of the German Musical Instrument Award.
The instrument we submitted was a Pulse 4 with an ash body and maple neck.
We are overjoyed that our Pulse was able to convince the jury. In April we're travelling to Frankfurt in our new suits to receive our award at a ceremony at the Musikmesse trade show. We're sure to pay a visit to our Pulse, since it's being exhibited as an "award- winning instrument" at Frankfurt's Musikmesse for the duration of the trade show.
We see the award as recognition of our efforts to comprise high-tech, an innovative spirit, our love for details, craftsmanship and the consistent coherence of wood, magnet and metal in our instruments. The award motivates us to stay true to our philosophy, and to always get up really early to make sure we manage to do all that.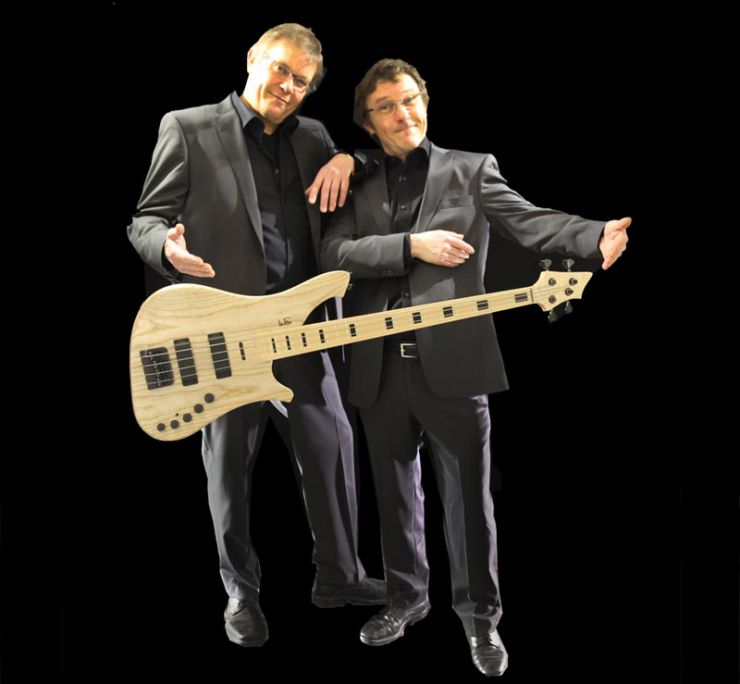 We wish to thank the jury members of the German Musical Instrument Award 2017, the IfM Institute of Musical Instrument Makers e.V. and the Federal Ministry for Economic Affairs and Energy.

We wish to thank all the courageous individuals such as Ulrich Teuffel, Dirk Groll, Alex Zachow from Troyan Drums, and our friends at EGB, who are pursuing the same madness as us and who support us with advice, encouragement, communication, friendship and solidarity.

We wish to thank our valued customers who put their trust in us and thus enable the continued existence of Le Fay. We wish to thank all the bass players who we've become friends with over the years, and whose feedback, advice and input has given us great encouragement.
Reiner & Meik Dobbratz / Le Fay