Le Fay Artists
Le Fay bass players from all sorts of different styles of music. We asked them for a statement on the following question: "What makes your Le Fay bass so special?".
Hermes Shum, SINGER 5
Session Bass Player & Tutor based in Hong Kong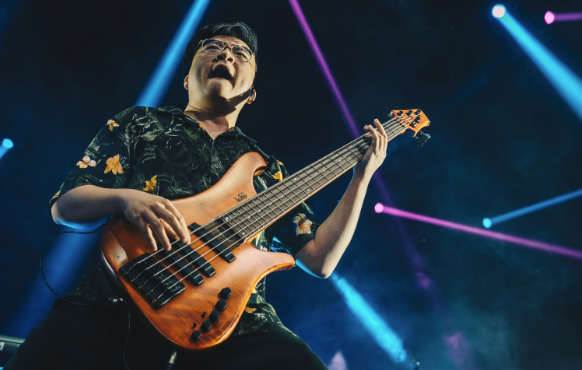 "The bass 'Singer' plays wonderfully and has received compliments from bandmates and engineers on how glorious it looks and sit in the mix.
I really appreciate the mindset on LeFay building basses - taking care of bass player comfortable feeling and preferences. Thank you Reiner & Meik for your massive support!"
Blaise Hommage, SINGER 6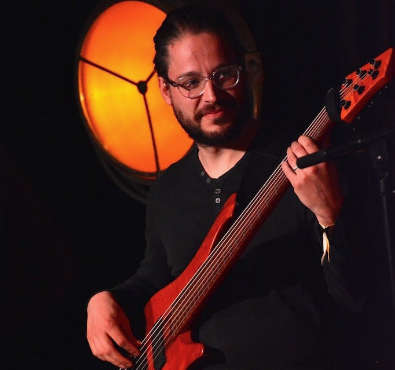 "I went in a bass shop 2 years ago and I tried every bass there were, from
classic Fender to best boutique basses and the one brand which stood up
was Lefay.
Not only it looked gorgeous, but it was the best sounding and comfortable
instruments I ever played, so I decided right away to order one.
Now I can say I will never regret my choice, as my Singer 6 allow me to play
effortlessly and is the projection of the sound I ever dreamed about.
I just found my voice on the bass and I'm forever grateful to Reiner and
Meik for it."
Jonathan Ihlenfeld Cuñado
Jonathan plays with Trilok Gurtu, Anika Nilles Nevell, Kiki Manders, NuHusselorchestra... and is about to Release his Solo-CD "The Art of Music".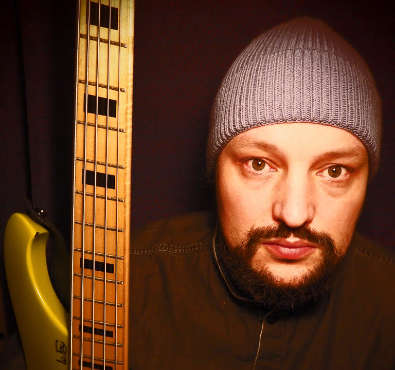 "I play Le Fay Basses as i just love the Sound and the Feel of the Bass, and also the Builders themselfs. Luckily i also got endorsed by them.
My Lefay Bass is just my Voice, the sound i hear in my Head."
Michael Krysh, ROB RHT Custom
Session-Musiker, div. Projekte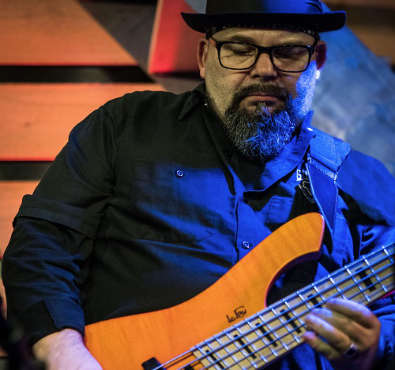 "Verarbeitung, Design, Konstruktion und Sound sind auch nach 5 Jahren für mich das Nonplusultra und lassen keine Wünsche aufkommen. Ob live oder im Studio, der Bass begeistert Zuhörer und mich jedes Mal und inspiriert immer wieder aufs Neue.
Danke LeFay!"
Anel Mujdzic, PULSE 4, PULSE 5, PULSE 4 Fretless, HERR SCHWARZ 5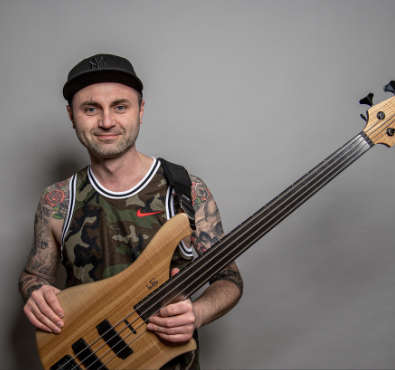 "Glück ist Le Fay, nichts anderes. Wer Le Fay spielt, ist
glücklich."
Arash Eyvazi, HERR SCHWARZ 5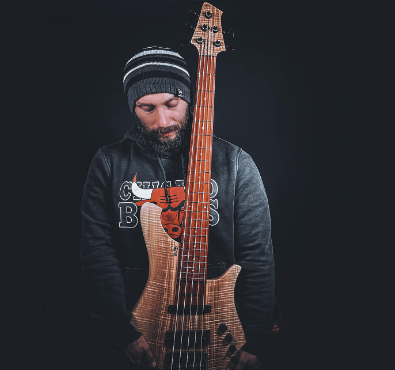 "I had so many basses like Fodera, Smith, Mtd...
But now im in love with Le Fay !
Herr Schwarz is :
Incredible, magical, comfortable, unexpected to me.
I am very very happy with that and now she's my main instrument ever."
Elie Kh, HERR SCHWARZ Headless 5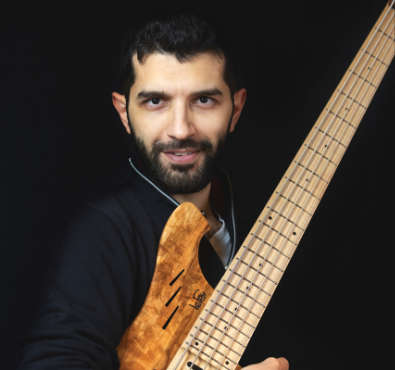 "LeFay instantly made me a better player!
Every choice they make on these wonderful innovative basses is exactly what you need, and each detail has been perfectly executed with such attention, to make you feel, play and sound greater than ever before.
This bass tells a tale by itself; a story of 2 genius brothers who really love what they do. And this is what I want to make my music with."
Mike Dutko, PANGTON 6, D-TUNER
Bassist with Groundlift.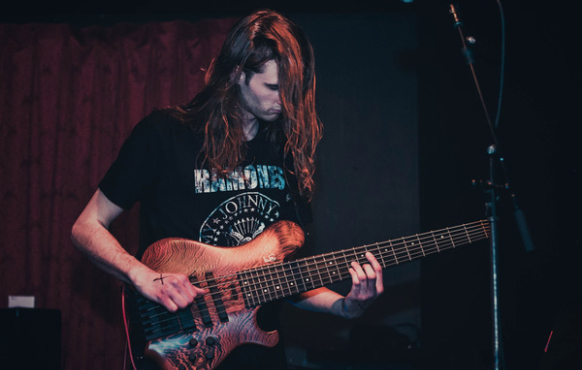 "Before I began playing Le Fay basses, I was always worried that the bass I was playing was making my job harder. I always felt that the instrument was getting in the way of what I was trying to play. Once I got with Le Fay though I knew I had found an instrument that would only make my life as a bassist easier. I can say with complete confidence that these basses will never get in your way or prevent you from communicating your musical ideas. In my band Groundlift we play a wide variety of different styles and its amazing that I can get every tone I want from just one bass. Our guitarist plays a Les Paul, and all of the Le Fay's unique tones only seem to compliment the classic Les Paul sound. Every recording I've ever done with Groundlift or anyone else has been done with Le Fay. Once you pick one up you will love them for life!"
Billy Chang, REMMINGTON STEELE 6
Death Metal Band DEATHPACT in Beijing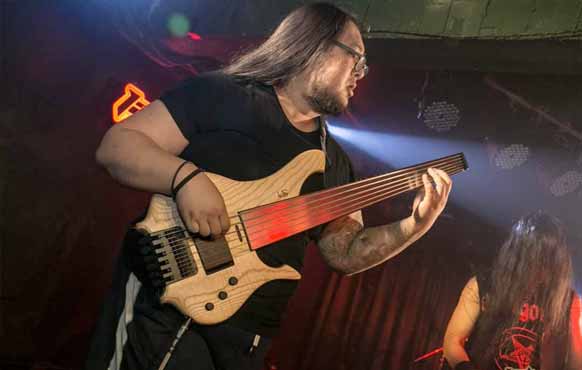 "Hi Reiner,
I have been playing the bass for over half a month, sorry to reply late, it is a busy month for me. I can say that this is the best bass I have ever played, it has everything I need from an instrument, and it will stay with me forever. Every place I go, there are people asking me about this steel monster, and I will never get tired of telling them how great my Le Fay bass is. :)"
Markus Keggenhoff, HERR SCHWARZ 4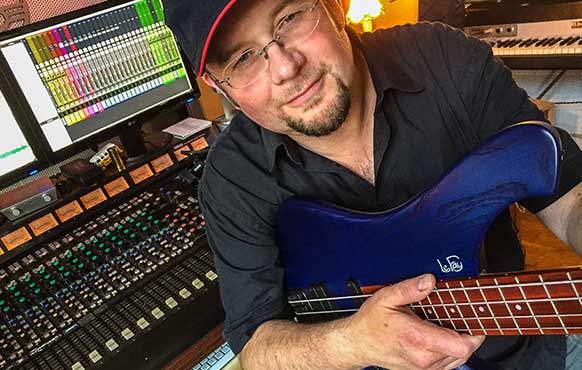 "Da isser, mein Herr Schwarz im gewünschten Blau! Ich wollte schon immer einen Le Fay-Bass haben und jetzt hat es endlich geklappt. Absolut cooles Teil, da habt Ihr tolle Arbeit geleistet, ich habe echt großen Respekt vor dem ganzen Know-How und der Liebe zum Detail (!!), die in diesem Instrument stecken! Das Teil rockt und der Produzent ist auch begeistert! Das persönliche Abholen war auch klasse, danke für den Kaffee und die Werkstattführung. :-) Beim nächsten Bass komme ich wieder vorbei zum abholen – versprochen!"
Tommy Giesler, CAPONE 6, PANGTON 5, PANGTON 5 Fretless
Bassist div. Jazzprojekte, Basslehrer, Producer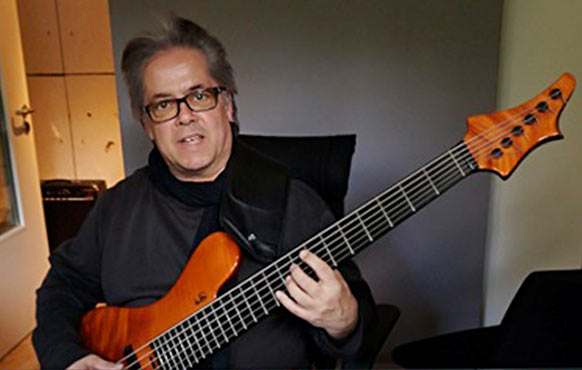 "Even after having been a member of the Le Fay family for 26 years, you don't take the superlatives of the basses for granted. Instead, you're in for a surprise time and time again because here the motto is: You get what you give!
Many thanks to Reiner and Meik!!"
Steve Kerby, HERR SCHWARZ 6, WARAN 5
Bassist aktuell bei Rossi & Kill Frame, ehemals u.a. bei Secrecy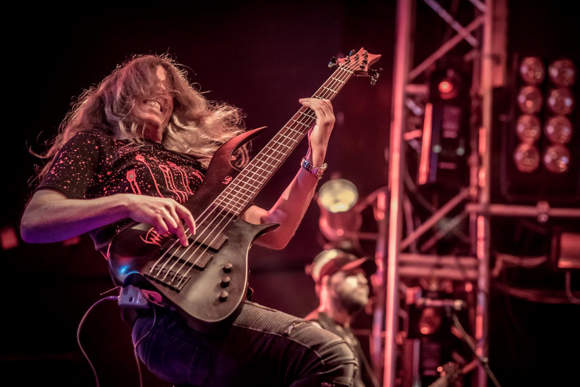 "I've been keen on basses from Le Fay for a long time, because of their sound, how stunning they look, and also the congenial contact by phone I've had with the Dobbratz brothers. When I finally held the Herr Schwarz 6-string in my arms for the first time, I was spellbound. The bass sounds incredibly balanced, you can adjust it to all sorts of different settings, and when you play it, it's the greatest thing since sliced bread. Ideal for the styles I play in my bands. If you're looking for a forever bass, you're sure to find it at Le Fay! Test it and you'll instantly fall in love with it.
PS: Meanwhile I also bought a Le Fay 5 string. A real live monster!"
Falk Ostendorf, PANGTON 5, PANGTON 4
Cicinatela, INYAKA and SinaMarie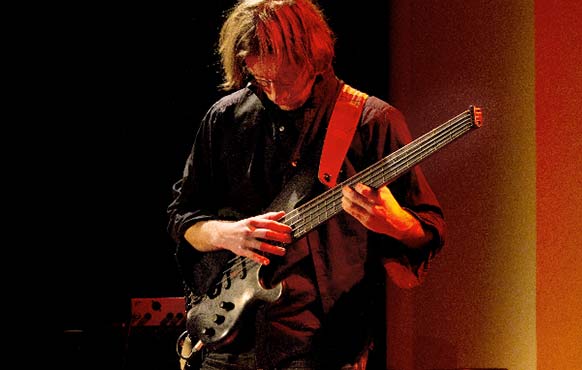 "Wow, what a bass! What an unbelievably awesome sound, and what a waistline! Incredible! For me, it was love at first sight. All I can add is this: Get yourself one of these basses as long as you still can! Sell your car, sell your wife or sell your husband! No matter what, it's worth it!"
Shane Allessio, REMINGTON STEELE 6
Session-Bass player in London, Founder of "Trionomy" and "Shane Allessio Bass Band", www.shaneallessio.com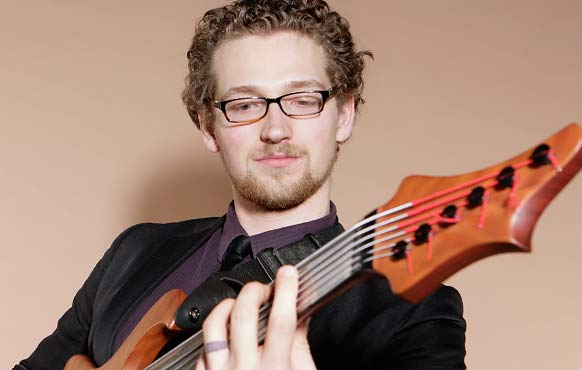 "I thought I had my dream bass until I played a LeFay. The consistency throughout the fingerboard as well as the ability to dig in without losing any finesse is uncanny. This is what allows me to play my LeFay in the studio, in a small jazz club, or in a large music hall without changing my setup. The Remington Steele is the most versatile instrument I've ever played, and it always turns a few heads just by taking it out of the bag."
Reimer Bolls, HERR SCHWARZ 4 TAED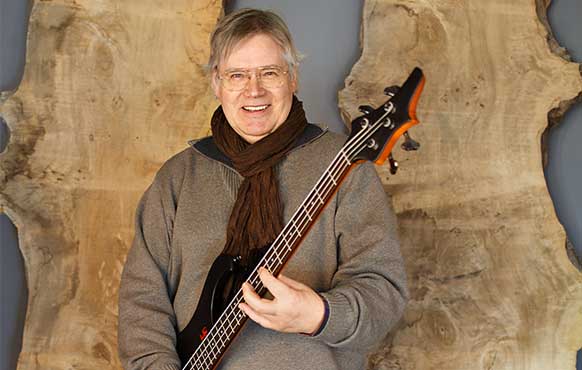 "Just for fun and for my neighbours to hear I'm still alive. At the end of my professional life, I bought myself an Audi A6. A dream car. I thought that'd be it. What else could someone my age possibly still want? Until I happened to walk past Le Fay's workshop on Kiebitzreihe one day and decided to have a quick look round. To cut a long story short: I instantly fell in love with Herr Schwarz 4 TAED. And that's when I started playing the electric bass. So: You should never stop having dreams and living them to the full. Thank you Reiner, thank you Meik. You're truly a dream team."
Ingo Hey, WARAN 5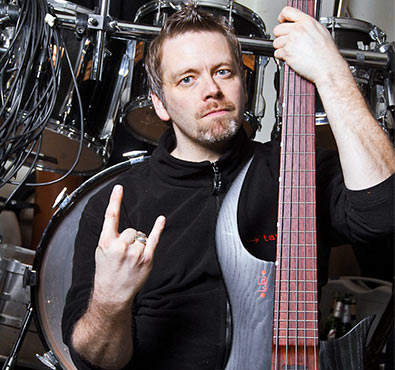 "My life with Le Fay started more than 15 years ago with a stunning Pangton 5. In small music clubs or in front of 20.000 people on an open air stage, Le Fay has always been by my side! Today I am playing a Waran 5 and the fearful faces of other bassplayers make me smile everytime I unpack Godzilla! :-) OK, jazz is different but that's because I play ROCK 'N ROLL, BABY!"
Björn Tittes, HERR SCHWARZ XXL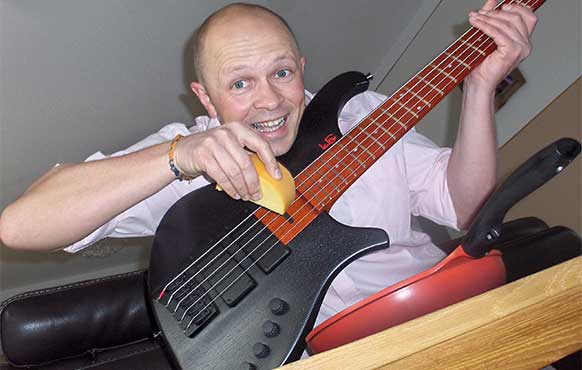 Hi Reiner, Hi Meik,
As promised, here is a photo of me with my new luxury cheese grater. I'm really happy with it and my heart leaps for joy every time I touch it. You did an awesome job... Many thanks for that, guys!!!
Le Fay Club, New Hampshire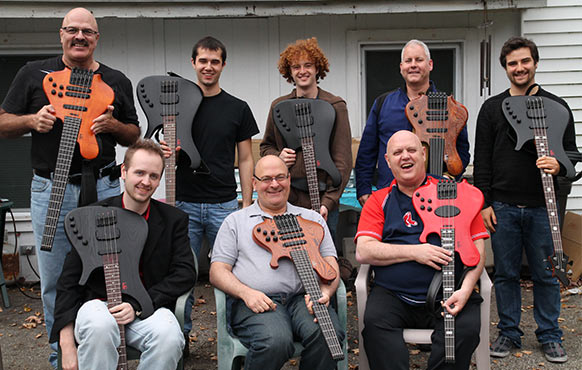 A picture is worth a 1000 words right?
Dimitar "The Funk" Kovachev, HERR SCHWARZ HL 5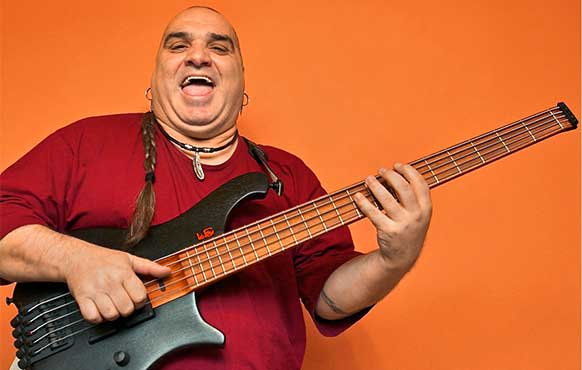 If you want to hold in your hands "The Beauty and The Beast" – Le Fay Bass is exactly what you need!!! It's a killing funk machine, man!!"
Thomas Meinlschmidt, HERR SCHWARZ 5, SINGER 5, PULSE 4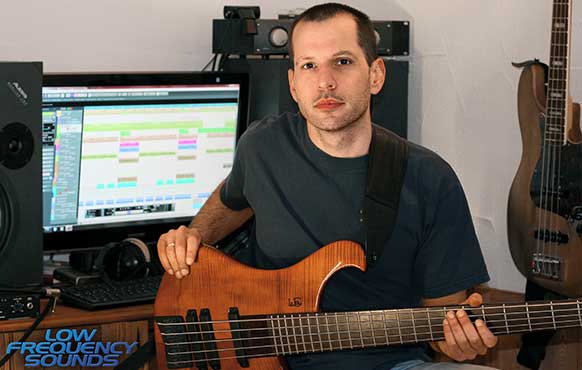 "... Why play a different bass, if I can have a Le Fay."
Henning Prey, PANGTON 5, WARAN 5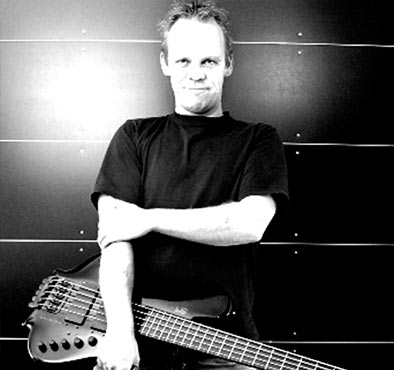 "Pros & cons
Pros: sound, CRAFTsmanship, aesthetics, innovation, endless ingenuity, humour, joy, friends, inspiration, gratefulness, satisfaction, perfection, respect, curiosity... LeFay
Cons: the ever increasing pity for other bassists who don't own a LeFay but keep wanting to debate about the best bass in the world is killing me!!! :-)
Additional pro: when my girlfriend isn't there, I take my Pangton 5 to bed with me!"
Riley Hagan, PANGTON 5 Fretless, D-TUNER
Bass player and teacher at Bass Lessons Unlimited. Performed with Michael Manring, Jim Stinnett, Steve Bailey, Grant Stinnett.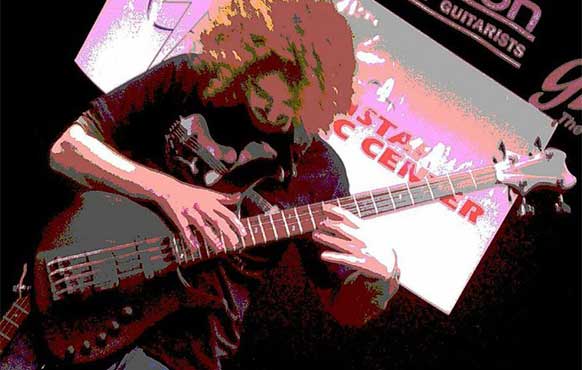 "These instruments are amazing. They respond so quickly and evenly and have richer fuller sound then any bass I've ever played. I love how they feel and the control they offer."
Heiko Zapp, WARAN 5
Plays at Crossover-Metal-Band SAINTCATEE, Teacher and Band coach at Workshop Musik.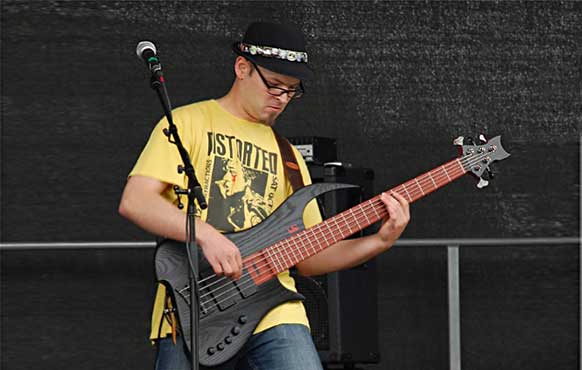 "At the soundcheck...
Sound technician: 'I hope I get a good enough signal from you. With your previous band it was pretty weak.'
Waran: 'FUMBA PENGA BOOOOOOOOMMM!!!'
Sound technician: 'OK, OK! That certainly was a signal!"
Thomas Große, CAPONE 6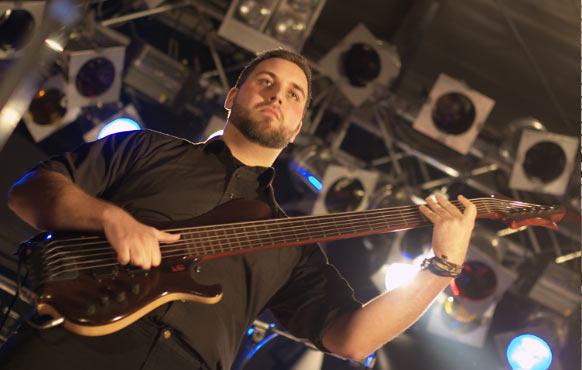 "Whenever I open the case, it puts a smile on my face, because this instrument is simply a work of art. And when I've plugged it in, it always gives me the according killer sound, no matter what mood I'm in!"
Andreas Nau, MIDAS 5 "Limited Edition"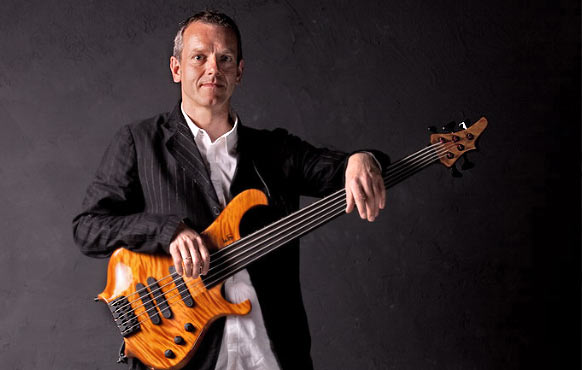 "This fretless has a really wicked sound. It sings, it pushes, it goes from really low to mega high. Not to mention the magnificent way it looks. Congratulations, Le Fay team - a masterpiece!"
Ulrich Schmauder, SINGER 5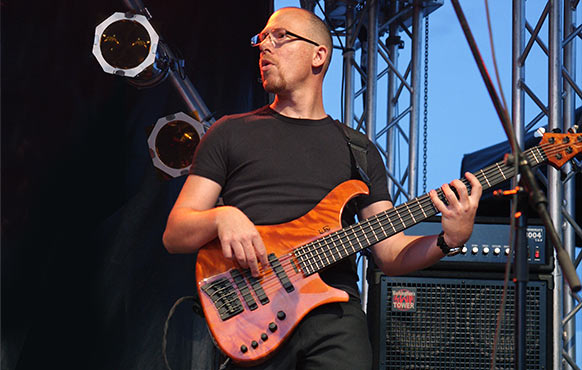 "This bass is the dream of my sleepless nights. My search has come to an end: anyone who has the honour of owning such a bass no longer needs any other. My Singer is extremely versatile, it covers virtually every sound for any genre, from hard to mellow."
Uli Geiler, CAPONE 5 Limited Edition, HERR SCHWARZ 5, MIDAS 5 Fan Fret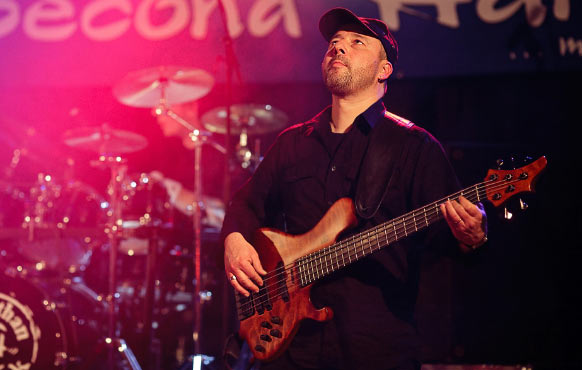 "Although my Le Fays are vastly different, they've got one thing in common: they're simply divine! That's why I play them - out of conviction!"
Uli Salm, REMINGTON STEELE "Limited Edition"
Rudolf Rock & die Schocker, Leinemann, Guitar Army, Dirty Dogs, Hugo Egon Balder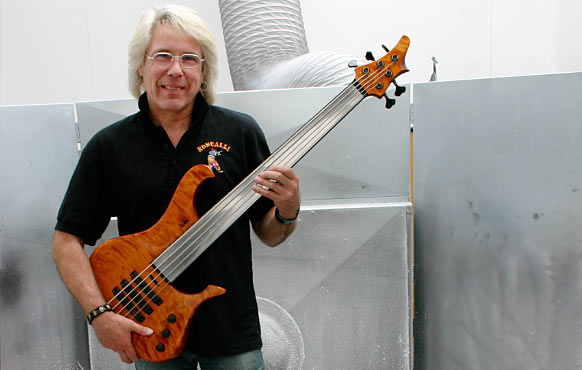 "I have been collecting bass guitars for over 40 years and meanwhile have more than 300. Wonderful old Fender Precision and Jazz basses, Gibsons, Rickenbackers, everything that is classed as vintage these days, lots of Alembics, Ritters, etc. But when I want to really get my heart for bass guitars racing, I pick up my Remington Steele "Limited Edition" with its white birch top. The sound, the workmanship and the versatility are absolutely mind-blowing!!!!!! I have played and owned pretty much everything this amazing world of luxury basses has to offer, but this bass tops them all!!!!!"
Robert Bielen, HERR SCHWARZ 4, HERR SCHWARZ 5 headless, HERR SCHWARZ 4 Steele Crazy Cherry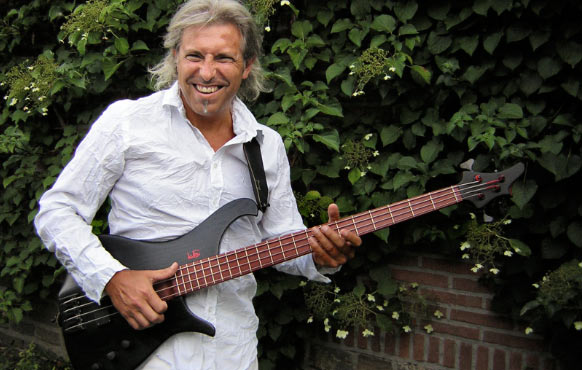 "Le Fay makes my day. Literally. Every morning when I get up and every night before I go to bed, I stroke all my little treasures affectionately. These basses are all my dreams come true and the end of a very long search. I don't need any other bass guitars anymore, I have my Le Fays. No other bass even gets close. Killer exterior and mega sound, wow, thank you Reiner & Meik!"
Steffen Peschel, HERR SCHWARZ fretless
Plays with Peter Schilling, Acoustic Lounge and other projects, own jazz trio (Steffen-Peschel-Trio), lecturer at workshops and various music schools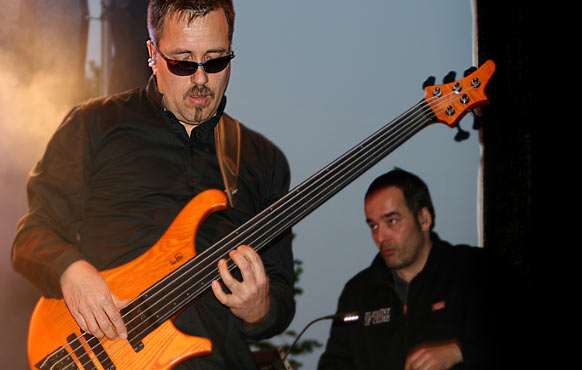 "I've never played such an inspiring instrument before - this bass really gets you hooked!"
Ralf Steltner, PANGTON 5 and REMINGTON STEELE
Bass player with the Hamburg Police Orchestra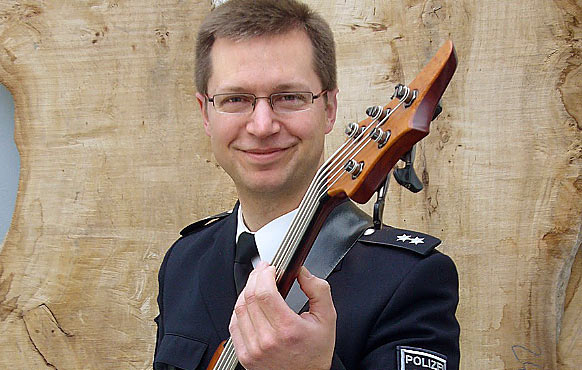 "I have a Pangton and a Remington Steele - both basses are the ultimate, I don't want to play anything else."
Michael Frontzek, PANGTON 6, REMINGTON STEELE 5, HERR SCHWARZ 5
Bass instructor, band leader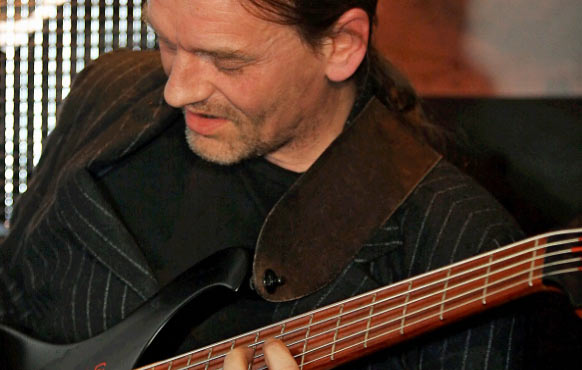 "It could only get different, not better!"
Manne Pokrandt, PANGTON 5
Bassist with Engerling and Mitch Ryder, Studio1058 (more than 100 CDs), www.hooolp.com - search engine for live music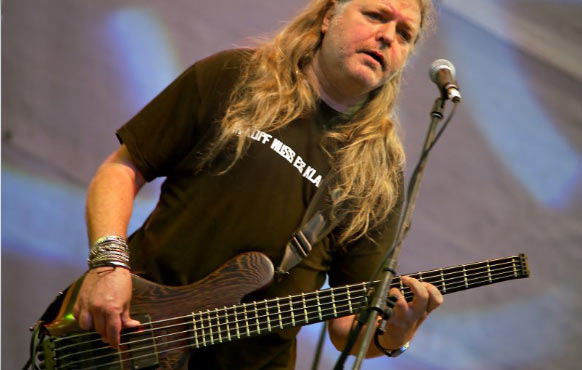 "The Le Fay convinced me with its immense scope of exquisite sounds, it's great to play, built with a lot of love for detail, even the F in the name is there."
Marc Blum, HERR SCHWARZ 6
Marc Blum, bassist from Aachen, plays everything from grunge rock to punk, funk to jazz, and anything else that catches his fancy.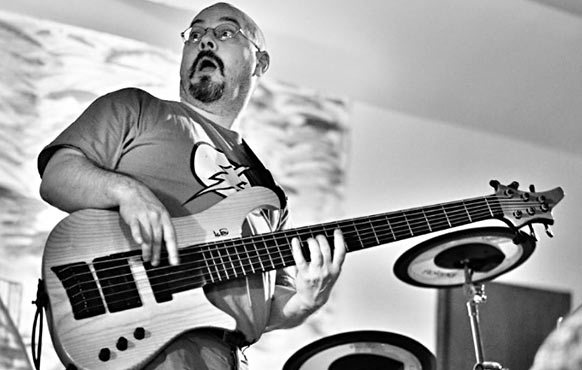 "Le Fay? The ultimate weapon! Even when no other bass seems to fit, my Le Fay Herr Schwarz six-string is sure to get the job done."
UW, HERR SCHWARZ, MIDAS 5 Fan Fret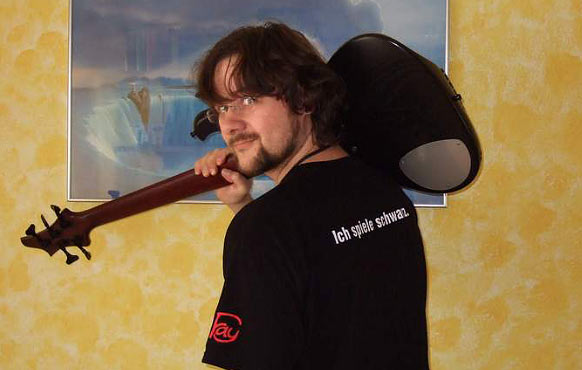 "I was impressed by the Le Fay design the very first time I saw their basses - but when I heard and played them, it was too late: I had to have one. I've never regretted it, not even for a moment, and I'm very happy with this bass."
Samir Elflein, MIDAS 5, REMINGTON 5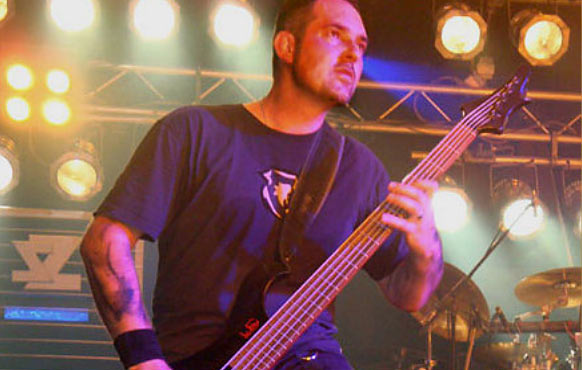 "I have been a proud Le Fay bass owner for more than 20 years. No other bass is as good at interpreting your own bass sound! Le Fay - never gets on your tits and it's got plenty of balls ;-)"
David "Schreiner" Herrmann, HERR SCHWARZ 5, HERR SCHWARZ 6 TAED, ROB 344-66/IIIa RHT
Bassist with Machete Dance Club and Reverse the Sun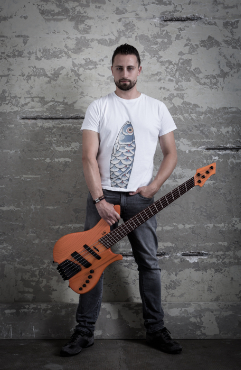 "Since 2006 and 2009 respectively, the two Herr Schwarzes have been living under the same roof as me and since then there hasn't been a day when I haven't played at least one of the two basses! An experience that I can only recommend to everyone! Sound, versatility, material, craftsmanship and design; EVERYTHING is perfectly aligned! For me they are the alpha and omega in the world of bass guitars!"
Jens Ulrich Handreka, MIDAS 4, MIDAS 5, Carlsson 6
Live and Recording Artist, Instructor (www.handreka-music.com)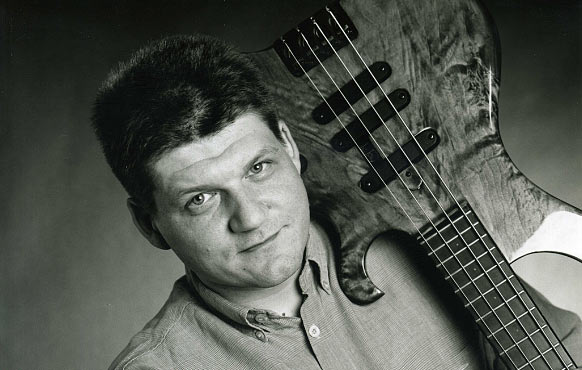 "The B-string on my Midas V and Carlsson VI are quite simply unbeatable. Every Le Fay is extremely versatile and provides a wide range of workable basic sounds through to clear solo sounds that do justice to any style of music. The Remington Steele fretless is peerless."
Frowin "Superfro" Ickler, CAPONE 5/90
Bassist with Henni Nachtsheim (Badesalz), the Timo Gross Band and various others. Frowin's own projects include superfro and FroFunk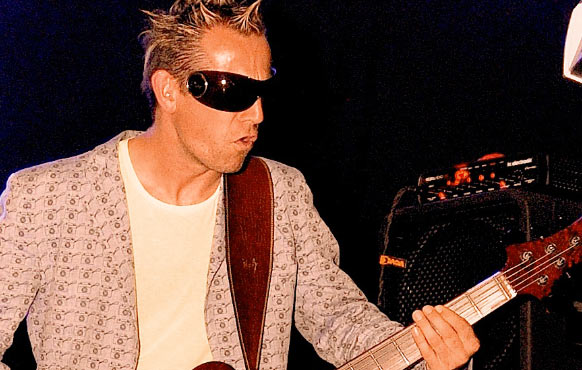 "When I hold my Le Fay, I become one with my instrument. I've never experienced this feeling so intensively with any other bass. It just does everything, from ruthless playing without any loss in the dynamics, to smooth slow blues...."
Gunnar Ullrich, PANGTON 5 fretless
Has played with Bobby Kimball, Miller Anderson, John Miles, etc. Current band: D-U-K.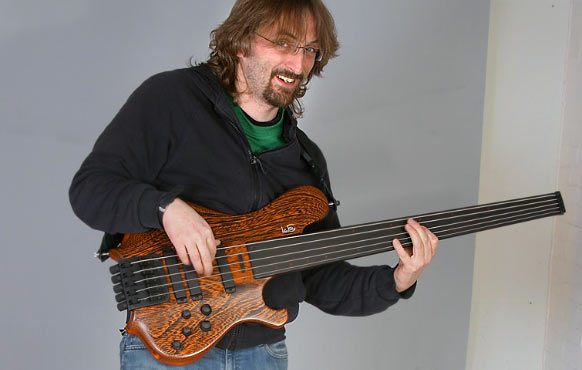 "Plays like butter and sounds like cream."
Thomas Julius Müller, MIDAS 5 fretless
Bassist in various rock-pop projects and bands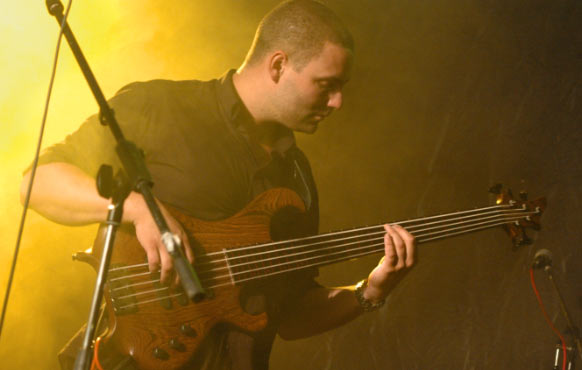 "When I got this dream fretless, I just sat there for the first two hours and couldn't believe how incredibly beautiful it is. But that was nothing compared to what was in store for me. Its sound is low, dark and heavy, it overtaxes many a PA and is a nightmare for many mixing engineers.... This instrument rocks!!!"
Frank Haas, SINGER 5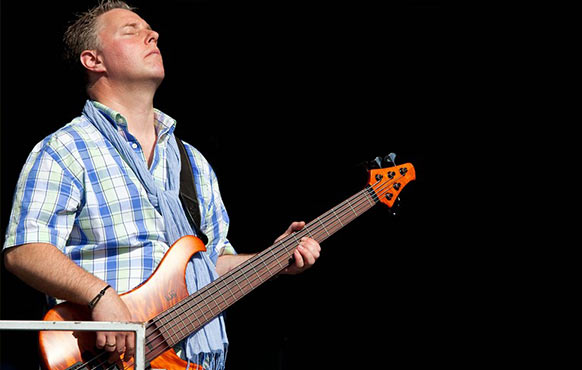 "What makes this bass so irresistible is its perfect finish, homogenous playability, linear tonal character and exceptional sound quality / tone options! The ideal five-string instrument for total escalation – it's simply divine."